7 Sly (and Delicious) Swapped-Spirit Cocktails
From Eric Rogell on Mar 21, 2013
Vote
7
Click if you like this post
This post appears in the April Fool's Day roundup.
Who says an April Fool's prank has to include convincing your buddy he won the lottery or tweeting a link to a fake story about engineers discovering how to fuel cars with garbage? ("Better start investing in the flux capacitor market!")
A good April Fool can also involve something surprising, unexpected, and even delicious. That's where these cocktails come in. They're familiar classics with an out-of-left-field twist that'll catch them off guard when you use rum in their Old Fashioned or sub in bourbon in their Bloody Mary. No hilarious spit takes, these swapped spirit cocktails are actually just as tasty as the originals. Because you'd hate to waste good booze. That would be foolish.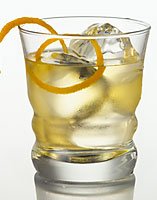 Añejo Old Fashioned
Calling for the world's first clear añejo, Don Julio 70, this take on the classic results in an Old Fashioned that's clear, yet still tastes like a typical brown-hued Old Fashioned.
Ingredients:
1 ounce Tequila Don Julio 70 Añejo Claro
1 teaspoon Apertif Wine
1 teaspoon Light Agave Syrup
Orange Zest for Garnish
Preparation:
1. CombineTequila Don Julio 70 Añejo Claro, apertif wine and light agave syrup into acocktail shaker and shake well.
2. Pourcontents into a rocks glass.
3. Garnishwith orange zest.
Zacapa Perfect Manhattan

In your typical Manhattan you'd be expecting a rye-based spirit, but swapping in the barrel-aged Zacapa Rum with rich flavors similar to a fine brown sipping spirit, results in a surprisingly smooth cocktail that lives up to the original.
Ingredients:
1 ounce Zacapa 23 Rum
3 teaspoons Dry Vermouth
3 teaspoons Sweet Vermouth
1 dash Bitters
1 teaspoon Honey Syrup
Orange Twist for Garnish
Preparation:
1. CombineZacapa 23 Rum, dry vermouth, sweet vermouth, bitters, and honey syrup into acocktail shaker with ice.
2. Shakewell and strain contents into a rocks glass.
3. Garnishwith orange twist.
Double Down
Based on the old-school classic, the Mamie Taylor, this version calls for Johnnie Walker Double Black instead of a typical scotch. It'll leave true spirits aficionados guessing where the amplified, smokier flavors come from.
Ingredients:
1 1/2 oz Johnnie Walker Double Black Label Scotch
3 oz Ginger Beer
Lemon Peel for Garnish
Preparation:
1. Build in a rocks glass.
2. Garnish with a Lemon Peel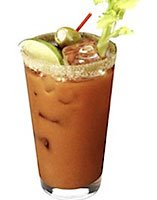 Basil Hayden's True Bloody Mary
Swapping out vodka for deeper, richer bourbon delivers a Sunday morning Bloody with a more complex flavor that you'll wish you knew about years ago.
Ingredients:
1 1/2 partsBasil Hayden's Bourbon
2 dashesCelery Salt
2 dashes HotSauce
2 dashesWorcestershire Sauce
1 tsp Wasabi
Tomato Juice
Lime Juice
Preparation:
1. Rim a pintglass with lime juice and celery salt.
2. Fill withice to the top.
3. Addbourbon, celery salt, hot sauce, Worcestershire sauce and wasabi.
4. Fillremainder of the glass with tomato juice, stir well.
5. Garnish with celery, lime and bluecheese olives.
The Tricky Fox
A play on the classic Negroni, this Fool's cocktail substitutes plum wine for red vermouth for a sweet surprise.
Ingredients:
1 parts Gekkeikan Plum Wine
3/4 parts Campari
3/4 parts Smith and Cross Navy Strength Rum
Preparation:
1. In a mixing glass combine all ingredients.
2. Add ice to the mixing glass and stir 30-40 times.
3. Strain into an old fashioned glass and garnish with an lemon twist
Honey, You're Such a Fool

A riff on a whiskey sour, this cocktail reaches way back and grabs applejack, the oldest spirit in America (Laird's owns the US distillery license #1), to add to Bärenjäger's unique honey and bourbon, and throws a complete curveball.
Ingredients:
1 part Bärenjäger honey and bourbon
1 part Oloroso sherry
1/2 part Lairds Bonded Applejack
A barspoon of simple syrup
Preparation:
1. In a shaker, combine ingredients.
2. Shake well with ice and strain into a chilled cocktail glass.
3. Garnish with a lemon twist
The Foolish Farmer's Fizz

Not your ordinary French 75, this version trades raspberry liqueur for fresh raspberries, and adds in American Harvest Spirit instead of gin.
Ingredients:
1.5 parts American Harvest Organic Spirit
3/4 parts Fresh Lemon Juice
3/4 parts Simple Syrup
5 raspberries
2 parts dry sparkling wine or dry champagne
Preparation:
1. In a shaker with ice, combine all ingredients.
2. Shake all ingredients well.
3. Strain into a chilled champagne flute and top with 2 parts dry sparkling wine or dry champagne.
4. Garnish with a raspberry.
More Stories