Halloween is a great time to re-visit another pair of absinthe cocktails: the Corpse Reviver No. 2 and Death in the Afternoon.

The Corpse Reviver No. 2 (like the Corpse Reviver No. 1) is featured in the Savoy Cocktail book and was created by Harry Craddock at the Savoy's American Bar some time before 1930. No. 2 is a more serious proposition than no. 1: here are the ingredients as listed in the Savoy.

1/4 Wine Glass Lemon Juice (3/4 oz)
1/4 Wine Glass Kina Lillet. (3/4 oz)
1/4 Wine Glass Cointreau. (3/4 oz)
1/4 Wine Glass Dry Gin. (3/4 oz)
1 Dash Absinthe.

Shake well and strain into cocktail glass. The book then notes:-

"Four of these taken in quick succession will unrevive the corpse again."

This version appears in the two Absinthe cocktail books published in 2010: A Taste for Absinthe and Absinthe Cocktails. One of only seven cocktails written up in both books, this is obviously an important absinthe cocktail (incidentally these books define the dash of absinthe as being four or eight drops). It's also a favourite of absinthe bloggers and of bars around the world.

I made it using an old, no longer available gin (Gloag's from the makers of Famous Grouse), Combier Triple Sec, Noilly Prat and 8 drops of La Clandestine. And slightly less lemon juice than recommended. It's a very enjoyable and refreshing pick me up.

So for Halloween brunch or lunch, what better way to start the day or to get it going than with this wonderful cocktail!

I was also pleased to see Boston's Royal Sonesta making a ready bottled version!

For more details of this, see the excellent IndulgeInspireImbibe blog.
Here's a video from our friends at Common Man Cocktails showing how to make both Corpse Reviver Cocktails.

And here are some further study notes about the Corpse Revivers from the Bitters and Twisted blog ....

Now onto the Death in the Afternoon cocktail ..


Another classic absinthe cocktail (and one that merits a slight twist to make it even more suitable for Halloween), the famous Death in the Afternoon was invented by Ernest Hemingway. The cocktail shares its name with Hemingway's book Death in the Afternoon, and the recipe was first published in So Red the Nose, or Breath in the Afternoon, a 1935 cocktail book with contributions from famous authors (coincidentally 1935 was the year when La Clandestine Absinthe was born). Hemingway's original instructions were:

"Pour one jigger absinthe into a Champagne glass. Add iced Champagne until it attains the proper opalescent milkiness. Drink three to five of these slowly."

I have always enjoyed Death in the Afternoon, but have also been aware that it might be a little dry for some people's tastes, especially if using a top quality champagne. So I was pleased to have the opportunity to try an interesting variation on this when my US partners visited us in Switzerland and suggested using a Swiss sparkling rosé to make a Death in the Afternoon.

Maybe it was the rosé itself (a little over-powering), or maybe it was the temperature of the rosé (ambient), but although it looks gorgeous, this didn't quite work. So with Halloween approaching, I tried again, this time with a Jacob's Creek sparkling rosé, which is probably easier to find in most countries. And to add some atmosphere, I dug out my daughters' Halloween straws and dimmed the lights ...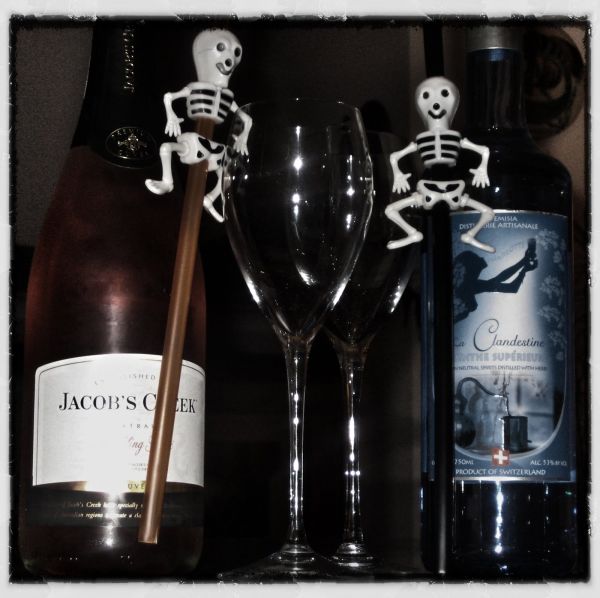 First the jigger of La Clandestine Absinthe, then top up with the sparkling rosé (I did top it up, but the members of the tasting panel sampled it before I could take my next photograph).
Nice colour, but maybe for Halloween, it needed a bit more drama. And so I added a few drops of blood ...
a.k.a. Grenadine.

Perfect to look at ...

... and perfect to taste. Not too dry and not too sweet, with the absinthe and sparkling rosé working very well together.

Of course a good cocktail needs a good name. I thought about calling this a Bloody Death in the Afternoon, but that might make people think it contains tomato juice. And for Halloween, I think a murder sounds better than death. It's definitely not an afternoon drink either, hence the final name .. Murder in the Evening. If you like a Death in the Afternoon, I think you'll love this. At Halloween or at any time.

Since not every absinthe lover has a collection of other spirits at home. I thought it might be interesting to see how those who prefer absinthe the classic way can get into the Halloween spirit.

Available from Pinky Diablo for $45 (including free shipping in the USA), these wonderful skull spoons seem to do the job perfectly ..

Santé ... or since the drinks and spoons are for Halloween, we should be satisfied if we can just achieve ... survival!
Recent Posts