Amaro Montenegro Cocktails for Drinking this Winter
Edit Post
Contributed by Cocktail Enthusiast on Jan 24, 2015
One reader loves this post.
Amaro Montenegro is a traditional amaro that dates back to 1885. It's distilled in Bologna, Italy from more than 40 herbs and spices, and its bittersweet character is accented by orange peels. These days, amari are front and center in many bars and a popular choice when doing shots. And that's certainly an option here. But we like Montenegro for its mixability, as the botanicals and spices merge nicely with a variety of spirits and mixers.
So below: three Amaro Montenegro cocktails from a couple of New York bartenders. Drink up and stay warm out there.
FERROVIA (Rob Krueger, NYC)
1.5 oz Amaro Montenegro
.75 oz Vecchio Romagna
.5 oz simple syrup
.75 oz lemon
.5 oz black cherry puree
1 dash mole bitters
Shake with ice, then strain into a coupe.
~
M&M (Rob Krueger, NYC)
1.5 oz Amaro Montenegro
1.5 oz Mezcal
1 dash chocolate bitters
Build in a rocks glass with ice and garnish with an orange twist.
~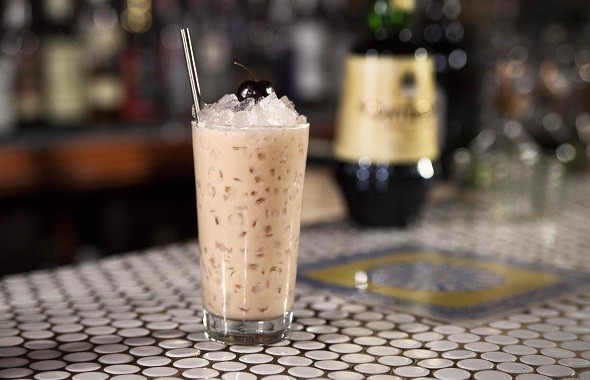 A SNOWBALL'S CHANCE (Karin Stanley, NYC)
.75 oz Amaro Montenegro
.5 oz cream
.5 oz honey
.5 oz Cherry Heering
.75 oz Applejack
Whip all ingredients. Then pour over crushed ice in a Collins glass and garnish with a cherry.
Recent Posts