Ardbeg Uigeadail Review
Edit Post
Contributed by ModernThirst on Jun 05, 2017
Zero readers love this post.
Introduction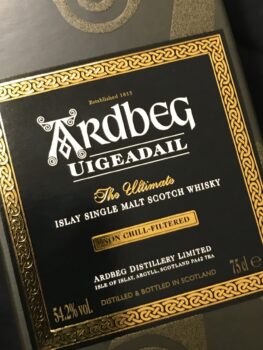 The Uigeadail – pronounced 'Oog-a-dal' – expression was launched in 2003 and in 2009 was named World Whisky of the Year in Jim Murray's Whiskey Bible. The distillery, on the box packaging, describes this release as such: "Ardbeg Uigeadail takes its name from the brooding, mysterious loch which provides the peat-laden water for Ardbeg. This is a special vatting of different styles of Ardbeg, marrying together its traditional deep, smoky notes with the luscious sweet, raisiny tones of the ex-Sherry casks." There are many opinions amongst the whisky fabric of the preferred standard Ardbeg release – Uigeadail or Corryvreckan. For me I have a clear preference – the Uigeadail is delicious – and it appears the 120,000+ members of the Ardbeg Committee agree, as it was voted by the members as their favorite Ardbeg release.
Distillery Description
Ardbeg distillery, as noted last time, was commercially founded in 1815 (although whisky production began as early as 1798). The distinctive Ardbeg taste comes from the malted barley received from Port Ellen – peated to a level of 50 ppm (parts-per million) – combined with the water from Loch Uigeadail, about three miles from the distillery. Ardbeg distillery currently has three whiskies in its primary lineup – called the Ultimate Range: the Ten Years Old, Uigeadail, and Corryvreckan.
Ardbeg Uigeadail Vital Stats
Mash Bill: 100% malted barley dried over peat
Casks: first and second fill ex-bourbon oak casks and sherry butts
Age: NAS
ABV: 54.2% (108.4 proof) non chilled-filtered
Producer: Ardbeg Distillery
Price: $90-100
Availability: widely available
Scoring Notes
Notes where Jeremy and I agree will have no annotation – differences and slight variance are annotated by inclusion of our initials (WJ) or (JR).
Appearance
amber – with thick legs in the glass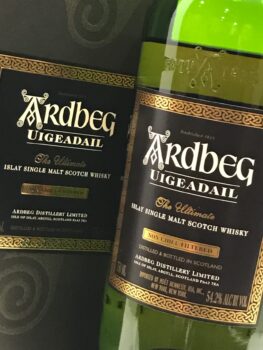 Nose
lovely nose – very pleasant, with the sherry influence apparent, smoke, tar, rubber, sweet cherry tobacco, salt (WJ); savory, dry tobacco, dark fruits in the background, raisins, tiny bit of fresh asphalt, smoke and salt, but not so much sea brine (JR)
Palate

smoke, some ash, peat, tobacco with sweet dark fruits (raisins, figs) lingering under the smoke, cherry Chloraseptic (WJ); savory – a touch of grilled meat, salty, deep smoke (not overpowering), so smooth for 108 proof, a medicinal note, with no asphalt noted on the palate (JR)
Finish
nicely balanced – long finish, if I had a wish it would be for a little more of the dark fruits to punch through at the end, coats the mouth and sticks around (WJ); medium length but not hot, very pleasant, a little more spice at the end, leaves the palate in good shape for more (smoke dissipates), leather is here that I did not pick up during the initial tasting, the asphalt returns in a not unpleasant way (JR)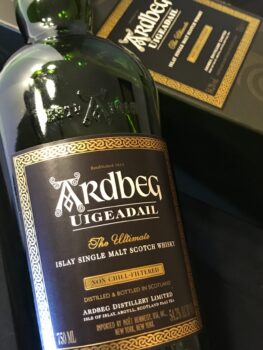 Synopsis
As you can see from the review and scores, we both very much like this dram. I could let the aroma fill the room and continually revisit the nose – brilliant effort; one to always keep on the shelf (WJ). While there is some sweetness here, it's more suggestive of fruits having been eaten than anything sugary in the mouth. In the end smoke and savory pushes the sweetness away, and while the raisin + sherry note peaks its head out for a moment, it is quickly (and quite completely) replaced with Chloraseptic notes (JR). A definite winner on all accounts.
ModernThirst.com Score: 92 (combined); 92 (WJ) and 92 (JR)
Wrap-Up
Next up is the Ardbeg Corryvreckan – Jeremy's favorite of the of the four Ardbeg's we've tasted and rated. Thanks for reading and please provide comments if you have them. Until next time, I leave you this fine day with the great words of James Joyce in Dubliners – "The light music of whisky falling into glasses made an agreeable interlude."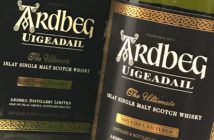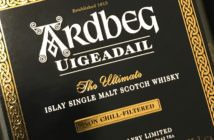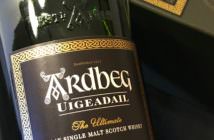 The post Ardbeg Uigeadail Review appeared first on ModernThirst.
Recent Posts