Brown Derby: A Cocktail to Celebrate The Oscars
Edit Post
Contributed by The Drink Blog on Feb 20, 2015
Eight readers love this post.
It's Oscar time! OK, I'll admit it, even after working in "The Industry" for a few years, I don't really care one way or another about the Oscars. High fives to all of those people out there doing good work, entertaining us with their movies and giving us a little escapism. Beyond that, come now, it's all just getting paid to play make believe. One of my favorite ways to make believe? Have a cocktail. A great one to celebrate old school Hollywood? The Brown Derby.
For those of you who don't know, the Brown Derby is a restaurant chain that opened during the '20s in LA. Now that's an era for movies, drinking and letting your imagination run wild.
I'm a big Casablanca fan, love Bogey and can easily imagine him strolling in (wearing a three-piece suit, naturally) to a Brown Derby, ordering the aforementioned cocktail for a working man's lunch and then strolling back out to shoot his next scene.
I'll also admit, this little reverie of mine has absolutely no basis in reality, I'm just imagining it here — but still, it's a fun thought.
Anyway, the drink itself is a celebration of everything that is classic, Hollywood, refreshing and good. There are three ingredients: bourbon, fresh grapefruit juice and honey water (that's one-to-one honey to water).
If you look around at other recipes of this drink, you'll find all kinds of different proportions of those three ingredients. To me, most of them don't call for enough grapefruit juice — I want to actually taste it! It shouldn't just be there for fun.
Do yourself a solid, if you're having a few people over to watch the Oscars, or just watching them yourself, or don't know or care about them at all, give this cocktail a try.
If nothing else, Bogey would approve*.
(*The factualness of this claim cannot be proven. Or disproven, really, as he is dead. Still. Let's just say he'd approve.)
Now, let's get to some Brown Derby drinking!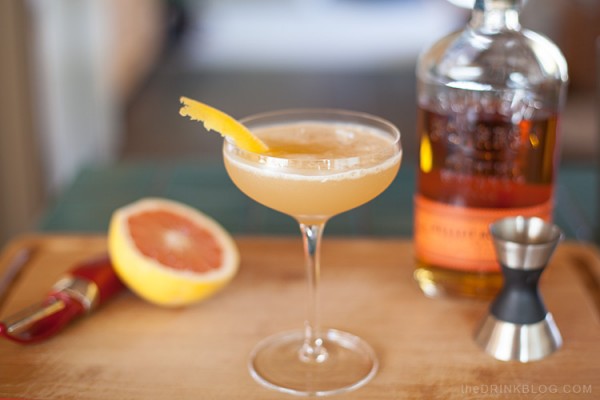 Brown Derby
Author:
The Drink Blog
Recipe type: Drinks
Servings: 1
Ingredients
2 oz. bourbon
2 oz. fresh squeeze grapefruit juice
¾ oz. honey water
Grapefruit peel
Glass type: coupe
Instructions
Add all ingredients to your shaker with ice.
Shake.
Pour into your coupe.
Garnish decoratively with grapefruit peel.
Drink to Bogey.
Watch The Oscars.
Claim you can act.
Make another.
Prove your acting prowess.
Recent Posts