Call it Whisky or Wysgi, one thing's for sure: Welsh Whisky is Charming Kingdoms
Edit Post
Contributed by The Flaviar Times on Apr 02, 2015
Two readers love this post.
What do British Royalty and Penderyn Whisky have in common? It's Wales and rarity. You see Welsh gold used in the royal wedding rings is rare as hen's teeth though arguably rarer was the existence of a Welsh Whisky. Penderyn is the first Welsh Whisky distillery to reopen after the last closed…only some 100 years ago! As for the gold, some of their bottles are cheekily adorned with a gold seam.



Penderyn started production in 2000 and ever since they released their first Whisky in 2004, they've had nothing but rave reviews, Uncle Flaviar included! The distillery is located in the midst of Brecon Beacons national park in the village of Penderyn perched atop of a natural spring. This spring supplies Penderyn with the requisite pristine water worthy of use for Whisky alchemy.

Penderyn Whisky is produced in a quite modern way compared to Scotch or Irish Whiskey, and has a unique flavour profile that's likely to be welcomingly different from that which you know. The Welsh even spell it differently: Wysgi!

In fact, the pioneering Welsh distillers might just be preparing to take over the UK Whisky industry! Immediately after our chat with Penderyn managing director Stephen Davies, he was summoned to the most famous address in the country: 10 Downing Street. It wasn't because of school-boy ties to Eton but simply to pour some Penderyn, in celebration of St David's Day of course!




1. How would you describe Penderyn whisky in 3 words?
World-class Welsh Whisky.

2. What is your second favourite Whisky?
It would be Kavalan. I've been to the distillery twice and these guys do a great job. Kavalan Sherry Cask is one of my favourites.

3. What's your favourite music and what drink goes with it?
I like very sad songs. My favourite music is everything by Elvis Costello. I like to have a fruity Whisky with it, if it's not Penderyn, maybe Compass Box Hedonism, or Jura 10 Year Old, which I think is a little bit underrated. I'd take any of those with a good song in a dark room.

4. What superpower would you want to have?
If I could make Whisky mature faster, I'd be delighted!

5. What would you eat and drink for your last supper?
It would have to be something Welsh. Laverbread, which is basically seaweed that you fry with bacon and eggs. It's very strong tasting seaweed that most people find difficult to approach because it's an acquired taste, but we're brought up with it, so I love it. For the drink, it would have to be something strong. If Whisky, it would have to be a single cask. From the Penderyn range, I would choose Single cask Rich Madeira, which is extremely fruity and jammy. But with laverbread you could also have a smoky whisky, maybe Ardbeg.




Whisky producing in Wales is not something we hear about every day. Can you tell us about it?
Wales, like Scotland and Ireland, is a Celtic nation and it has a patchy history of Whisky making. There were distilleries in Wales up around until 1898 when the last distillery closed its doors. Evan William, one of the founding fathers of the Kentucky Bourbon industry, was from Wales. Whisky produced at a distillery in Bala in the north of Wales was even presented to Queen Victoria when she visited. After that, there was an absence of making Whisky in Wales for over 100 years before Penderyn started distilling in 2000.



What made Penderyn founders decide it was time to end the Whisky distilling break in Wales?
Penderyn started as a lot of good things start; as a conversation in a bar among friends. There were five of them and they felt that it was long overdue. They didn't know an awful lot about it, but they set out with a lot of passion. They involved Dr Jim Swan, who is our master blender today. He's helped us to create our signature flavour profile – the Bourbon maturation and Madeira finish. Scotch is primarily Bourbon and Sherry, so the Madeira gives us a point of difference, as well as our unique still.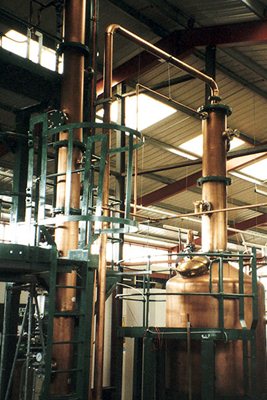 For the design of the still, the founders enlisted a help of Dr David Faraday, who is a descendant of the famous Michael Faraday. The Whisky still that we use at Penderyn is very unusual and quite unique. It's a one of a kind and produces a different style of Whisky to Scotch Whisky or Irish Whiskey or even Kentucky Bourbon.

In what way is the still special?
David Faraday was a chemist by background. And he said he would make a modern version of the still that will produce a really great Whisky. That's what he did; he designed a new kind of still, which is lower on energy cost but produces a very clean and yet very fruity spirits.

It's a single copper pot with a column on top of the pot and then another column by side. It's very much a batch process and it's very much a pot still, but it doesn't look your typical Scotch or Irish Whiskey stills.

When we draw the spirit out of the still it's 92% ABV, which is very high. It is very light, delicate, but fruity spirit. We reduce it to cask strength to mature it, but this distillation gives an unusual style to what we produce.



What is the flavour profile of the Penderyn Whisky after the ageing?
The flavour profile of the Whisky results from using this distinctive 'Faraday' still as we call it and the way we mature it. For the main house style, we mature the Whisky in Buffalo Trace bourbon barrels and then move it to Madeira wine casks from Portugal for the finishing process. And the result is a light and creamy with a lot of fruitiness about it as well. We bottle our original expression at 46% ABV, but it's extremely light and easy to drink.


The style of the Whisky is very different to Scotch. It's not a copy of Scotch or Irish Whiskey, but is recognised as unique. It's accessible, very easy to drink. Having tasted it all around the world, people recognise it as being different. It's not what they expect.




How much Whisky do you produce?
2014 has been our best year ever and we sold around 200.000 bottles of Single Malt. We don't release anything unless it's absolutely ready and we're happy with it! That sometimes gives us difficulty, because some expressions of our Whisky are in extremely short supply. But nevertheless, we can only produce what we can and this is a long-term business.




Having said that, we're moving the business further. About 18 months ago, we added the second still to the exact design as the original Penderyn Faraday still. And nine months ago, we added a pair of pot stills as well that allow us to produce slightly heavier Whiskies. So we've trebled the size of the distillery over the last couple years, which still only makes us a small to medium sized distillery in the UK, but it does give us a bit more capability. Moving forward, we're looking to innovate, so that we can produce Whiskies that no one else can achieve.


You have a fairly significant share of women on the team, definitely more than the industry average. How come?
It's not a deliberate policy, but they've proved to be the best. I don't know if you know this, but if you test a few people for their ability to nose and taste, quite often women tend to have a better nose than men. We started with our first lady distiller in 2004, who stayed with us for 7 or 8 years when she eventually married a Scotsman and moved there, where she now still works at a distillery.

Now we have two ladies, one is Welsh, the other one is Lithuanian. They're both chemists by background, but when we were recruiting for distillers, we did the nose test with them and they scored by far away the best marks, so we got the best people for the job. It does get interest, because they're ladies, which is a little bit unusual, although I think it's changing as you can today find a lot of women in key positions in the industry.


What lies ahead for the Penderyn distillery?
The business is doing really good in the UK, we're only exporting around 20%, so I think the future is to be exporting a lot more and developing new markets. We're distributing in over 25 countries and we're looking forward to adding a lot more international events and shows to our calendar. Our ambition is to double our production in the next 6 to 7 years.




We have been open for a few years as a visitors' centre, getting around 35.000 visitors each year. Our distillery is located in a beautiful area of waterfalls and rolling scenery and there are a lot of opportunities for outdoor activities. For the visitors to our distillery, we also do a half-day Whisky masterclass about how to nose and taste Whisky.

We're very proudly an independent business with 30 shareholders, who have been with us since the beginning. There are not many independent distilleries around the UK these days; most of them tend to be owned by larger parent companies. We're also very proudly Welsh and we want to tell our story to as many Whisky lovers around the world as possible.



Is there a specific food that you would recommend pairing with Penderyn?
For me, Malt Whisky is best enjoyed on its own with a few drops of water either as an aperitif or after dinner, rather than as a accompany to the meal. That's the view we tend to take, but we're certainly exploring categories like cocktails with Whisky as well. But if you really want to enjoy the nuances of the flavour, it's not a five-minute thing, you have to spend time with it; half an hour with a Whisky before you really get to know it.

We're ok with leaving the rare Welsh gold to royalty, but we'd stock up a little on the Penderyn, just in case there's another 117 year wait for fine Welsh Whisky.


Recent Posts