Here I am with my brand new Zacapa Recipe that is coming out in the new book from Gary Regan "The Negroni: a Gaz Regan Notion"
The Negroni, an elegant classic that has brilliantly survived the test of time, has always been the great companion of all my journeys.
The drink I made for this precious little book is called "Camillo in Xela" where Xela is the indigenous name for Quetzaltenango which is the place in Guatemala where the House of Zacapa is located and where this Rum is aged at 23 .000 metres; of course you all know who Camillo is…
30 ml Zacapa 23
17,5 ml Campari
25 ml Carpano Antica Formula
5 Coffee Beans plus 2 for the garnish
– Glass: Rocks
– Method: flame the coffee beans with a blow torch, add it to the mixing glass and crush them with the flat end of a barspoon.
Add ingredients and stir without ice for half a minute, then stir with ice and double strain over fresh crystal clear ice.
– Garnish: Long Orange peel attached to the rim of the glass, with two coffe beans inserted and flamed with a small blow torch in front of the guest; this to emphasize the coffee aroma mixed with the caramelized essential oils of the orange.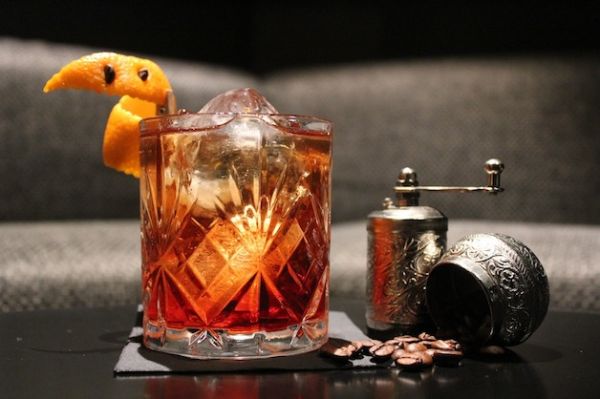 'Being from Italy where coffee is a very important element of the culture, I was curious to play with the toasted flavour of this amazing ingredient, matched with the bitterness of the Campari, the complexity of the Carpano Antica Formula and the beautiful hints of vanilla, almond and chocolate of the Rum Zacapa 23 coming from Guatemala, one of the world's leading coffee producer countries'
You can buy the book here
Home Page
::
Previous Page
Recent Posts