It's no secret that Alice and I are big fans of Japan. She lived there for a while; I loved it when we went a couple of years ago. In fact, given the chance, we'd probably move there. All of that is a preamble to the fact that in Japan, when the cherry trees are blossoming, it's kinda a big deal. They have full on sakura (cherry blossom) festivals. Those amazing cherry trees in DC? Presents from Japan. Long story short: cherry blossoms are huge in Japan. In their honor: the Cherry Blossom!
Alrighty, since we knew we needed cherries, some sorta cherry booze was in order. For this, we went with a nice cherry heering. It brings in a rich, robustness that you might miss if you just went with a simple cherry liqueur. We're not aiming for super sweet here, we're aiming to elevate and celebrate.
From there, we're also celebrating Japan and when you're talking Japanese booze (and you're not going legendary with, say, a Legendary Shandy), you're almost always talking sake. I mean, sake is alcohol is sake. Go ahead and wrap your head around that one for a while.
Our two key components were set: cherry heering and sake. Next up, supporting players.
Cherries go well with some citrus buddies — it is spring and spring likes bright flavors. Bright flavors like lime and orange. Meaning hello there lime juice and curacao, jump in the pool.
Finally, we needed to round out the flavors, so we brought in some grenadine (if you can find non-iridescent, go with that — or even make your own!) and cherry bitters to give it that extra note of perfection.
Combined all together and how is it? Well. Do you like cherry coke? If you do, you're going to love it. If you don't, well, go have a Black Forrest Martini for your cherry fix.
Now, let's get to celebrating the cherry blossom festivals all around and drink the Cherry Blossom cocktail!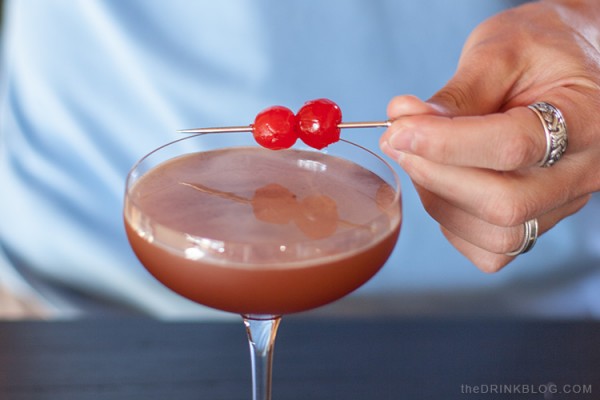 Cherry Blossom
Prep time: 2 mins
Mix time: 2 mins
Total time: 4 mins
Author: The Drink Blog
Recipe type: Drinks
Servings: 1
Ingredients
2 oz. Sake
1½ oz. Cherry heering
½ oz. Orange Curacao
½ oz. Lime juice
½ oz. Grenadine
2 dashes Orange bitters or cherry if we have it
Maraschino cherries
Glass type: coupe
Instructions
Add all ingredients except cherries to your shaker with ice.
Shake.
Pour and strain.
Garnish with cherries.
Celebrate sakura.
Kanpai!
Recent Posts