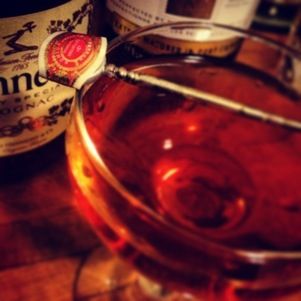 4 parts Glenmorangie Quinta Ruban
1 part Hennessy VS
1/2 part Agave Nectar
2 dashes Whisky Barrel Aged Bitters
1 Romeo Y Julietta Cigar
Add agave nectar, bitters, and Hennessy to shaker glass, stir. Add Glenmorangie, add ice, stir vigorously. Julep strain into smoked wine decanter (smoke glass with cigar smoke). Strain into chilled cocktail glass.

Filed under: Cognac, Fused Classic, Scotch