by Rachel Hollis at The Chic Site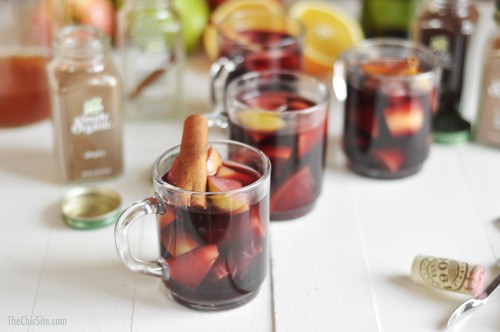 There is no better way to kick off a party than with a themed cocktail!
Seriously, a nice cocktail helps guests to relax, gives people something to do when they first arrive and when it's themed to the event it just makes the party seem so much more exciting. Since Thanksgiving is the biggest meal of the year it deserves a pretty epic drink to go along with it.
My very favorite? Thanksgiving Sangria! I love it because it's a drink that can be served hot or cold. I like to put mine in a slow cooker and allow guests to enjoy it as a mulled wine but it's just as delicious room temperature or crisp and cold out of the fridge. The key is to use fresh in-season produce and the best quality spices since they're the heart of a great sangria.
BONUS: the house will smell great!!
Thanksgiving Sangria
Prep Time:10 min
Cook Time: 2 hr
Serves 6

Ingredients
1 bottle Cabernet Sauvignon (try Unruly Red)


3 cups Martinelli's Apple Cider, or fresh cider

2 red apples (such as gala)

2 green apples (such as granny smith or golden delicious)

1 green pear

1 orange
Simply Organic Spices
4 cinnamon sticks

1/2 teaspoon ground nutmeg

1/2 teaspoon ground all-spice

1/2 teaspoon ground cloves

1/2 teaspoon ground cinnamon
Instructions
1) Wash the fruit really well and cut into large chunks. Place into the bowl of a slow-cooker. Add the apple cider and wine and give it a stir
2) On a couple of layers of cheesecloth, add the spices and cinnamon sticks. Tie into a tight bundle using kitchen twine. Place the spice bag into the slow-cooker bowl along with the other ingredients
3) Cook on low for 2 hours and then keep warm until ready to serve.
Enjoy!
Recent Posts