I have been craving a blended drink!  What else would you want to drink during the summer besides blended drinks?  They are cool, fun, and have magical flavors that you just can't quit.  I have an obsession with these bad boys and can't think of another perfect summer signature cocktail.  I actually had a debate with a close friend about blended drinks over a game of Big Buck Hunter.  I won the blended drink debate and he won Big Buck Hunter.  I suppose you can't win every battle especially when it comes to video games but winning at cocktails and blended drinks is a must!  The blended drink today is perfect for your weekend.  It is a twist on a classic Moscow Mule instead of ginger beer I used ginger beer sorbet. When I saw this ginger beer sorbet at my local ice cream parlor Molly Moon's I freaked out!  I knew I had to buy some and bring out my blended for some fun!  This sorbet is made from a local Seattle Ginger Beer called Rachel's Ginger Beer.  They have a Flagship store in Pike Place Market where they offer awesome ginger beer flavors including original, pink guava, blood orange, white peach, blueberry, and hibiscus.   The flavors are so amazing and even if you can't find ginger beer sorbet you could always use ginger beer blended with ice.  Make this blended drink over the weekend because you need to blend away your stressful week!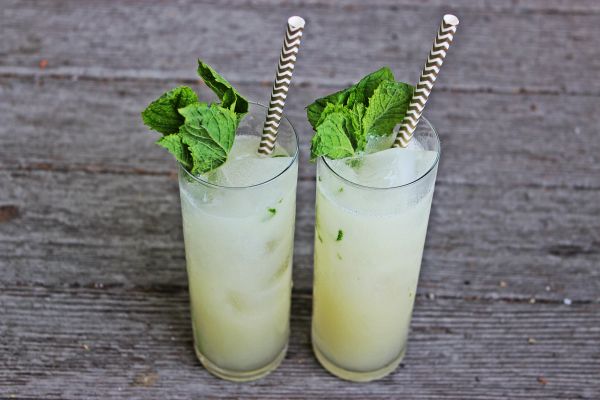 Recipe: Frozen Moscow Mule
Ingredients
4 ounces of vodka
1 cup Molly Moon's Rachel's Ginger Beer Sorbet
1 lime, juiced (1/2 of lime zest)
1 cup of ice
2 mint sprigs for garnish
Garnish: paper straws, lime zest, and mint sprigs
Instructions
In a blender add vodka, ginger beer sorbet, and lime juice
Blend on medium speed until all ingredients are mixed up
Divide ice between serving glasses then add blended mixture
Garnish with lime zest, paper straws, and mint sprigs
Yields: 2 servings
Cheers!