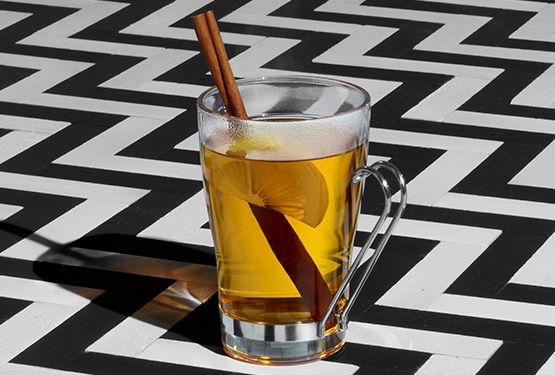 With the holidays fast approaching and cold weather already here (for most of us, at least), you're going to need something to shield you from both. In such times, a hot toddy typically does the trick. The warming elixir of booze, water or tea, sweetener and spice is a traditional and delicious companion to winter.
There's no limit to the variations of toddies you can produce — base spirits from scotch to rum to anejo tequilas will get the job done. And from there, you can play with citrus, sweeteners like honey and agave and various teas from black to green to none at all. Grate some fresh nutmeg or throw in a cinnamon stick, and you're all prepped for whatever the holidays bring you. So to get your started, here: a couple of hot toddy recipes.
Rusty Apple Toddy
3 parts apple juice
1 part Drambuie Scotch Liqueur
Lemon wedge
Cinnamon stick
Pour Drambuie into a teacup. Add heated apple juice and squeeze in the lemon wedge. Garnish with a fresh cinnamon stick.
~
For something with more of a kick, try this rum toddy, which joins dark rum with orange liqueur and spiced black tea.
Rum Toddy
4 ounces black tea
2 ounces dark rum
1/2 ounce Grand Marnier
1/4 ounce fresh lemon
Star anise
Cloves
Black tea
Water
Orange peels
Cinnamon stick
Combine spices with 8 ounces water and bring to a boil. Lower heat, then add black tea (use a tea ball) and steep for five minutes. Add spiced black tea to a glass with dark rum, Grand Marnier and lemon. Garnish with a wide swath of orange peel and a cinnamon stick.