Johnny Appleseed: Fall in a Glass
Edit Post
Contributed by The Drink Blog on Sep 26, 2014
Twenty-nine readers love this post.
Fall, autumn — whatever you want to call it — is my favorite season. The leaves change (well, not specifically where I am, but I can imagine it), the weather cools off and it's apple picking season! If you've never been apple picking, then you're not alone. It's a great fall idea though right? With that in mind: the Johnny Appleseed!
I was yearning for was a cool, apple-y drink to sip while enjoying the autumnal colors. That, plus I wanted something to drink while imagining what my house is going to look like during the upcoming holiday season. You need something to drink when planning, that's just part of it.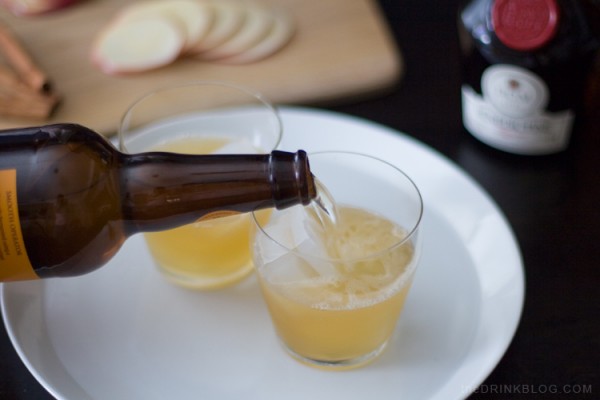 Here's what you're getting with the Johnny Appleseed: double apple power! There's Applejack (rumor has it George Washington so liked it, he asked for the recipe) and hard apple cider. As far as the hard apple cider goes, pick your favorite — which for me, for this drink, was a Crispin Honey Crisp. I like the brightness and hint of sweetness that it brings to the drink. Plus, you get to drink the leftovers yourself — there's something for the drink and something for the chef.
Wanna add a little more character? Feel free to add a half ounce of allspice liqueur. It'll add a bit more of those fall spice flavors, rather than just a pure apple experience. For me though, it's all apples all the time. Now get out there and enjoy fall!
Johnny Appleseed
1 1/2 oz. Applejack
1/2 oz. dark rum
1/2 oz. Benedictine
1/2 oz. lemon juice
2 oz. hard apple cider
apple slices
cinnamon sticks
Instructions
Glass type: Old fashioned
Add all of the ingredients except the hard apple cider to a mixer. Shake. Pour into an old-fashioned glass. Top with hard apple cider. Stir with a cinnamon stick. Garnish with apple slices and said cinnamon stick. Enjoy the apple-picking season.
Recent Posts