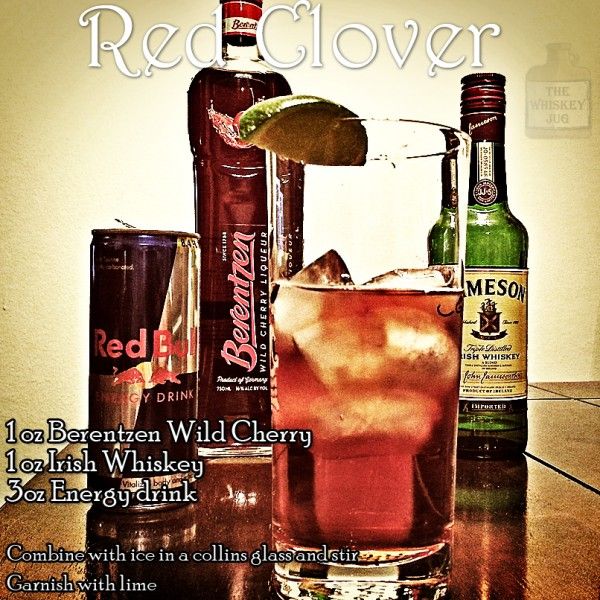 Typically I'm not a huge fan of most cocktail liqueurs. They end up being cloyingly sweet and have funny aftertastes that often ruin the cocktail. That's why I'm a bit shocked to be posting this cocktail because it's using a cocktail liqueur and it doesn't taste like melted candy. The Berentzen Cherry is actually not too bad and makes a pretty good cocktail.
I was approached by the Berentzen company about covering their signature Irish Whiskey cocktails for the upcoming St.Paddy's day and while I don't normally do that I told them if they sent me samples of the liqueurs and I liked the results of their cocktail recipes I would got ahead and cover them… I guess you can already tell how I felt about them.
The first cocktail is the Red Clover which uses Berentzen's cherry liqueur and manages to not do the one thing that most cherry liqueurs do; taste just like cough medicine. There is a bit of that in there, but it's not overpowering and it's pretty much an unavoidable correlation thanks to Robitussin.
Overall the cocktail has a very nice an easy texture to it and with Irish Whiskey being so light it pretty much fades into the background with only a mere hint of it's existence in the cocktail. The Red Bull gives it a bit of a kick and as an added bonus if you squeeze your lime garnish into the glass it tastes like an alcoholic Cherry Lime Ricky and that's just fantastic.
If you end up giving this a go I'd love to hear your thoughts below.
Red Clover Cocktail Recipe
1 oz Berentzen Cherry
1 oz Irish Whiskey
3 oz Energy Drink
Combine all ingredients in an ice-filled Collins glass. Stir gently and serve. Garnish with lime wedge.
*In case it wasn't clear I was given the Berentzen Cherry Liqueur and the cocktail recipe by the company.
The post Modern Cocktail: Red Clover appeared first on The Whiskey Jug.