If you're going to take inspiration for a cocktail, using Escoffier is a good start. Not sure who he is? Let's just say he's kinda a big deal when it came to making modern French haute cuisine — basically, he was the king of French cooking at the turn of the 19th and 20th Centuries. One of his (many) desserts was the Peach Melba. It's vanilla ice cream topped with peaches and raspberry sauce — and it's amazing. Using that as our base, we created the Peach Tequila Melba!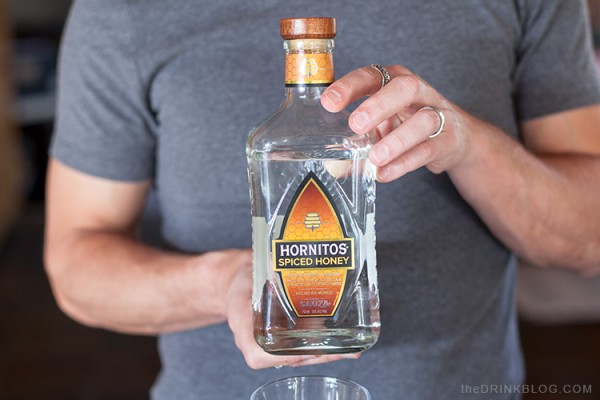 To begin at the beginning, we got some Hornitos Spiced Honey and tried it. You can't make a good cocktail without knowing what your ingredients taste like. How is it? Go get a bottle and find out!
Alright, fine, I guess I can talk a little bit about the flavor. We tried it straight and both Alice and I were impressed. "If you just had that on ice, I could see easily drinking it after work," she quipped. To both of us, there are definite notes of peach and brown sugar. Think of it as a mellowed out, slightly sweetened tequila whose best friend is peaches.
From there, inspiration for a cocktail wasn't too difficult.
At first, I started thinking a little fruiter, but then realized that I shouldn't look farther than Escoffier. If a dish has his seal of approval, it's a winner.
Normally, I'd like to go with fresh peaches, but it's not peach season. If you find yourself as we did, buy a bag of frozen peach slices and thaw some. Those guys were picked and frozen at peak ripeness, so you're golden!
For the next step, we were going to grill them, but it was a tad chilly out, so we opted to pan sear — which is a great backup option if you don't want to fire up the grill for a cocktail.
That took care of our peach component (along with the serious peach notes that the Hornitos Spiced Honey brings to the party), then it was just adding the cream and raspberry.
I'm not going to say Escoffier would 100% approve and/or sanction the Peach Tequila Melba, but he'd totally drink one!
Now, onto the Peach Tequila Melba!
Peach Tequila Melba
Prep time: 2 mins
Mix time: 4 mins
Total time: 6 mins
Author:
The Drink Blog
Recipe type: Drinks
Servings: 1
Ingredients
2 oz. tequila
1 oz. cream
¾ oz. Chambord
3 peach slices -- grilled
Glass type: old fashioned
Instructions
Grill (or pan sear) your peaches.
Add two slices to your cocktail shaker with tequila.
Muddle, mash, maim and destroy.
Add cream and Chambord with ice.
Shake.
Shake a lot.
These creamy drinks love extra shaking.
Cease and desist your shaking.
Add ice to your old-fashioned glass.
Strain shaken cocktail into glass.
Garnish with final peach slice.
Drink.
Admire.
Smile.
Recent Posts