This is a special post and it's been a long time coming. It all started this past summer when I got a tweet from Sommer who tweets as @GagneFoods letting me know she was in Denver sampling some of their wonderful Robinhood Meetinghouse Biscuits and wondering if we could meet. As luck would have it, she was going to be at the nearby Sunflower/Sprouts Market and I was game. I showed up in time for her to finish up a stint so we headed to a nearby Starbucks. You know one of those meetings when you just click…when you have so much to say and share that there is never enough time? That's how it was so I invited her to my home for dinner so we could continue…forget business; this was just dishing at it's best. Still, I discovered that beyond living in Charleston (a place I LOVE) and being the age of my daughters, how passionate Sommer is for the product her family produces. She offered to send me some samples of the Robinhood Meetinghouse Biscuits and having those in my freezer has been a never ending delight each time I try a new flavor.
Once served in the family's Robinhood Meetinghouse restaurant, they are now produced and shipped all over to lucky consumers. I've had the best intentions of sharing them before now but timing has not been our friend and in one of those moments that can only be called prophetic, this was so meant to be. Their Cinnamon Roll Biscuit with my own spin making them into a caramelized Pecan Sticky Bun with a Bourbon and Orange Glaze is the perfect marriage of a superior product with my own need to be creative in the kitchen. We will not discuss how many I ate. Nope. OK, it was four. Oops!!
Do me a favor would you? Clear your head of any notion that these are a standard grocery store version of prepared biscuits. This is more like having my Grandma's biscuits at the ready. They are literally biscuit perfection; made with all natural ingredients including cream cheese and an amazing and impressive 72 layers of yummaliciousness. I've tried to decide what my favorite is but so far, I've had a difficult time narrowing that down. You would too…check out these varieties:
Cream Cheese Biscuits
Triple Ginger Biscuits
Sweet Potato Biscuits
Double Chocolate Biscuits

Herb Parmesan Biscuits
Pecan Sticky Buns
Cinnamon Rolls
Blueberry Biscuits
Cheddar Chive Biscuits
Not to mentionBlueberry Petite Pies and Spiced Apple Petite Pies…ahem, Ms. Sommer I don't believe I've had either of those…wassup?? :)
The original biscuit is probably my favorite because they're great as is with eggs for breakfast, as a side for a great meal and my favorite..a seriously quick way to have fabulous shortcake in the summer. Where are you strawberries…I would love some now!
Still, with all of the biscuit love I've had over the past couple of months, I'm excited about the product that led to the perfect fit and that included availability. I wanted them to be something you could pick up at the grocery store as well as order online. I'm doing these again for Christmas morning. Homemade goodness but much easier! Most of the product line is available at Whole Foods and if not, they can be ordered at their website. Since they are frozen and shipped overnight, make sure you order enough packages to warrant the shipping fees; you will be kicking yourself if you don't; seriously.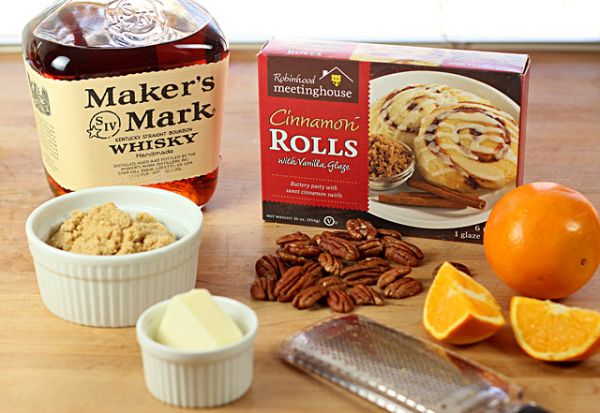 With the last shipment I received, Sommer had included both Cinnamon Rolls and Pecan Sticky Buns. Now the easiest thing would have been to make those sticky buns but I wanted to up the ante just a bit. No surprise I'm sure that I wanted to try a caramel topping with bourbon; is it bad that I'm SO predictable? But what I really wanted was to add a bit of orange. After the end of summer fruit season, I look so forward to this time of year when gorgeous citrus start to arrive in the market and I had just picked up some beautiful plump oranges and I thought the combination of these elements sounded good. Want me to be honest? Better than expected. I never add so much booze that it's really a harsh or evident element; bourbon and rum both just work so well with their inherent sweetness…but it was the orange that made this special. This takes me back to my semi-southern roots (10 years in NC gives me that, right?); something about the pecans and bourbon and orange just felt southern. Y'all.
I expected these rolls to be good but I simply can not understate what might not be obvious. Good? Yes. Great? That too…but more than that. I would dare anyone to question that you did not spend hours mixing and proofing and kneading; they were that good!
I can share my enthusiasm but even better? We want to share this goodness with a reader. Sommer wants to send a gift package of various biscuits to a lucky reader. Check out the details after the recipe…and I know you will be hooked too!
Pecan Sticky Buns with Orange and Bourbon Glaze
Prep Time: 10 minutes
Cook Time: 25 minutes
Perfect recipe for homemade results with the ease of using a prepared product.
Ingredients
3/4 cup brown sugar
4 Tbsp butter
2 Tbsp orange juice
1 Tbsp bourbon (optional)
1 tsp orange zest
1/2 to 3/4 cup whole pecans
1 package of Robinhood Meetinghouse Cinnamon Rolls
Preparation
Preheat oven to 350 degrees.
Put the brown sugar and butter into a 9" cake pan. Put the pan into the oven until the butter melts. Remove from oven; add the orange juice and bourbon to the pan and stir to mix everything well.
Add the pecans to the pan; I did them individually so that the tops of the pecans were all face down in the pan.
Separate the biscuits into six individual pieces and place them as shown into the prepared pan on top of the pecans.
Bake for 20-25 minutes.
Remove from oven; place a plate over the pan and flip. Let the pan sit for a moment to let the rolls, pecans and syrup release. If any pecans or syrup remain in the pan, simply remove with a spoon and scatter over the rolls.
Serve warm.

Giveaway Details:
Robinhood Meetinghouse has graciously offered to give away a sampler of their frozen biscuits. The sample kit includes 5 packages, each with 6 biscuits:
Original
Herb Parmesan
Triple Ginger
Cinnamon Rolls
Double Chocolate
To Enter:
Required: Leave a comment telling me which biscuit you are dying to try first.

For additional entries, do any of the following. Leave a separate comment for each entry.
Subscribe to Creative Culinary via email (at bottom of post) or RSS.
Follow @CreativCulinary on Twitter.
Follow @GagneFoods on Twitter.
Become a fan of Creative Culinary on Facebook.
Become a fan of Robinhood Meetinghouse on Facebook.
Tweet this statement:
Win a Robinhood Meetinghouse Biscuit Sampler from @CreativCulinary & @GagneFoods! Enter here: http://su.pr/1AN2Tx
Follow Robinhood Meetinghouse on Pinterest for ideas too!
Giveaway ends midnight on December 23, 2012. Winner will be notified and have 2 days to respond with shipping information or another winner will be drawn.