Make your holiday breakfasts easy and delicious with this Pumpkin Pecan Overnight French Toast with Bourbon. Put it together the night before; bake it in the morning!
Many years ago I made this recipe for Blueberry and Cream Cheese Stuffed French Toast and I was forever hooked. It wasn't just about how good it was, it was about the ease of a holiday breakfast when all of the real work is completed the night before. No more stressing about trying to fix breakfast while the kids were clamoring to open gifts on Christmas morning. I was a single mom; honestly this saved my entire day!
Now it's a family tradition for both Thanksgiving and Christmas and I like to try out new recipes occasionally. This year I thought it would be fun to mix up a dish filled with the flavors of this fall season and this Pumpkin Pecan Overnight French Toast with Bourbon was beyond perfect.
I put it together Saturday night, got up early to get it in the oven and had friends come over at 10am to enjoy it with me. Makes for such a relaxing morning; all I needed to serve with the Pumpkin Pecan Overnight French Toast with Bourbon was some coffee in the pot and bacon on the griddle. It was devoured.
I have the sweetest neighbor up the street. Sam is so often the guy who will come over and help me with the stuff I won't do since breaking my knee a couple of years ago. He'll haul all my holiday decorations from the basement and climb on my roof to put up a 5′ wreath and more.
Having him be one of my 'eaters' is good for both of us. He loves my food and I get rid of a dish I could easily have eaten for breakfast, lunch and dinner for a couple of days…probably not a good idea huh?
I loved this more than pumpkin pie. I enjoy pumpkin when it flavors a dish but not when it is the dish; if that makes sense. Combined with notes of cinnamon, vanilla, maple, and bourbon, what is there NOT to love? Of course that dollop of pumpkin butter did not hurt; we had extra and my English muffins this week were better than normal!
Add to it the convenience and its pretty much the perfect fall breakfast. I put my bacon on a cookie sheet and baked them both at the same time…honestly nothing easy and not much that's more delicious. Great for brunch too; make an egg casserole or frittata and you really don't need much else.
PIN 'Pumpkin Pecan Overnight French Toast with Bourbon'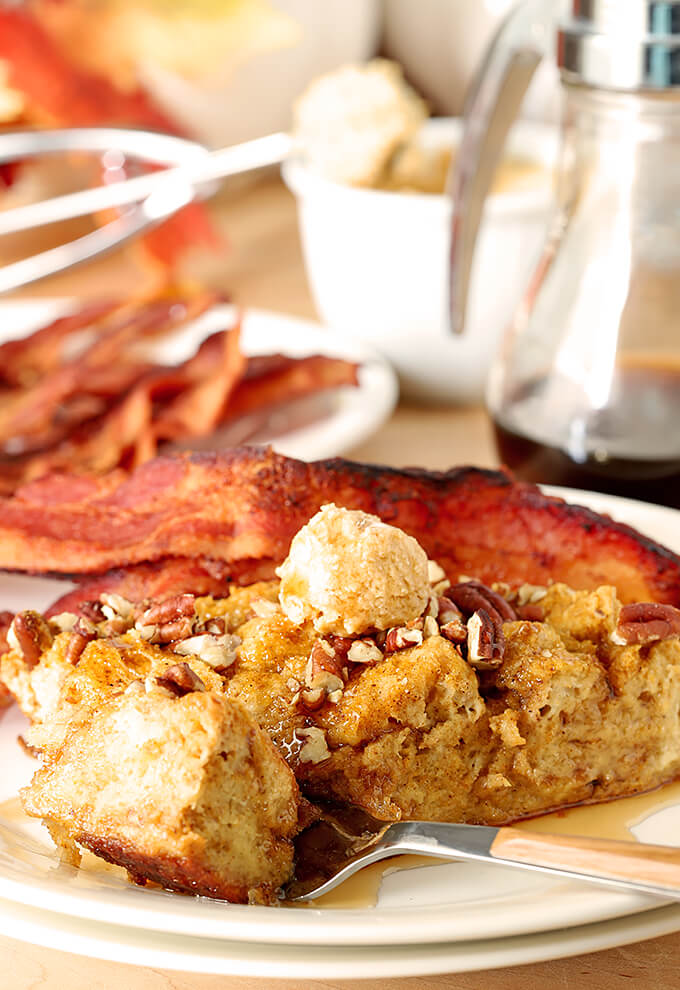 Yield: 6-8 Servings
Pumpkin Pecan Overnight French Toast with Bourbon
Prep Time: 20 minutes
Cook Time: 45 minutes
Total Time: 1 hour 5 minutes
A great breakfast dish that is prepared the night before; just perfect for holiday mornings!
Ingredients
For the Pumpkin Butter
1/2 cup butter, softened
2 Tbsp pumpkin puree
2 Tbsp maple syrup
1/2 tsp pumpkin pie spice
Pinch of sea salt
For the French Toast
1 loaf French bread or Challah, day old and cubed
6 eggs
2 c. whole milk
½ c. heavy cream
¼ c. granulated sugar
¼ c. brown sugar, packed
2 Tbsp maple syrup
2 Tbsp bourbon
1 c. pumpkin puree
1 Tbsp. vanilla extract
1 Tbsp pumpkin pie spice
1 tsp. ground cinnamon
¼ tsp sea salt
1/2 cup pecans, rough chopped
Instructions
To Make the Pumpkin Butter
Whip the softened butter in a mixer until smooth and fluffy; about a minute.
Add the pumpkin puree, maple syrup, spices, and sea salt. Beat just to combine.
Pack into a container and refrigerate.
To Make the French Toast
Butter a 9x13-inch baking dish, add cubed bread; set aside.
Whisk together the eggs, milk, cream, sugars, maple syrup, bourbon, pumpkin, vanilla, pumpkin pie spice, cinnamon, and sea salt. Pour the mixture over the bread. Cover with plastic wrap and refrigerate overnight.
Preheat oven to 350 degrees.
Remove the plastic wrap and scatter the pecans over the top.
Place in the oven and bake for 45 minutes
Remove form the oven and let cool for about 5 minutes before serving.
Top with a scoop of Pumpkin butter and maple syrup (or powdered sugar if preferred).
Category: Breakfast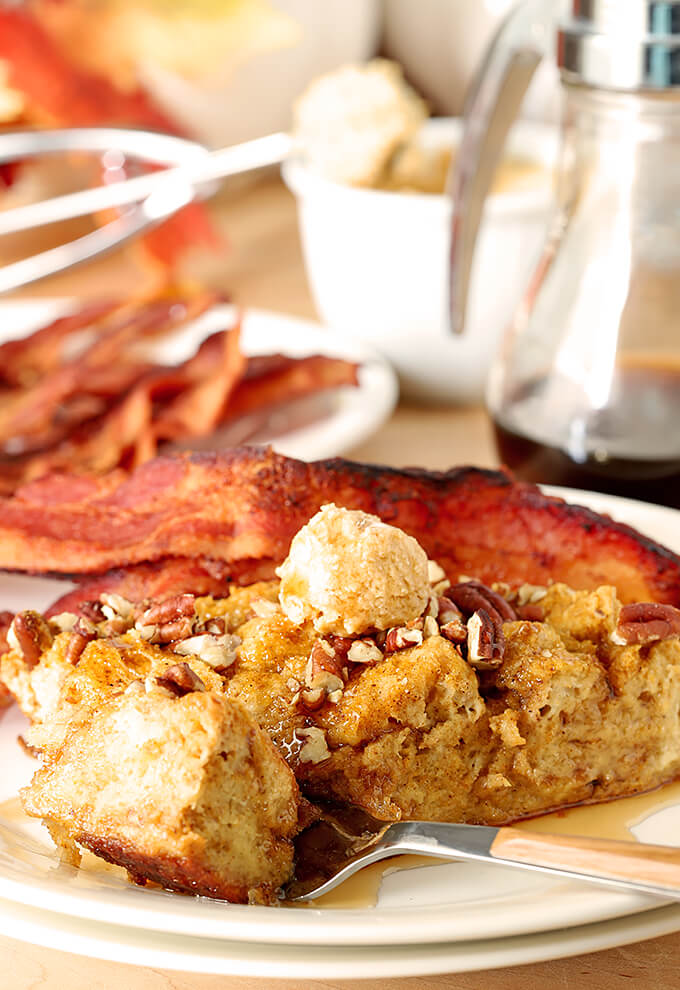 The post Pumpkin Pecan Overnight French Toast with Bourbon appeared first on Creative Culinary.
Recent Posts