This Sunday, you'll have plenty of opportunities to consume beer, more beer and probably some liquified cheese. So that's exciting. And if you're hosting a Super Bowl party, by all means, serve beer. It's required. But if you'd like to supplement your drinks selection with a few cocktails, well, that's mighty considerate of you. Stocking your bar with the standard spirits and mixers will yield many happy football fans. But try mixing up a few of these Super Bowl cocktails, and your attendees will be less concerned with prop bets and Bruno Mars, and more concerned with refilling their glasses.
Check below for the recipes.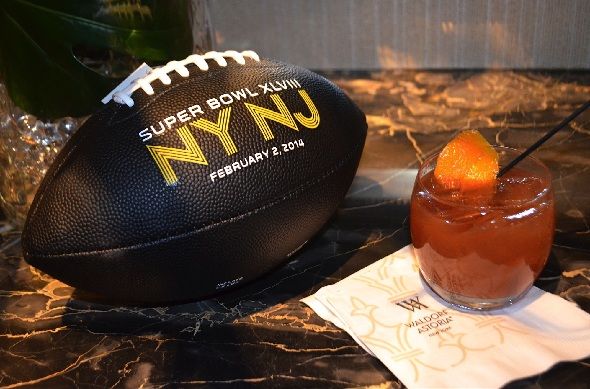 Chocolate Old Fashioned
This Broncos-appropriate drink comes from Frank Caiafa of the Peacock Alley at the Waldorf Astoria New York.
2.5 oz cocoa nib-infused Stranahan's Colorado Whiskey*
1 demerara sugar cube
2 dashes of house-made aromatic bitters
1 orange peel
Place orange peel and sugar cube to bottom of a mixing glass. Douse the sugar cube with bitters. Muddle. Add whiskey and stir for five seconds to incorporate. Strain into iced rocks glass.
*For whiskey infusion, add a half cup of chopped cocoa nibs to a bottle of Stranahan's and let infuse for 3-5 days.
~
Maple Bacon Sour
1 oz Absolut Vodka
.5 oz Mama Walker's Maple Bacon
.5 oz fresh lemon juice
Dash of bitters
Dash of honey
Add all ingredients to shaker with ice. Shake and strain over ice in rocks glass. Garnish with lemon peel.
~
The Allstar
2 oz Milagro Anejo
1 oz Averna
½ oz Allspice Dram
1-2 Dashes Aztec Chocolate Bitter
Add all ingredients to a mixing glass, and stir with ice until well chilled. Strain into a cocktail glass or coupe, and garnish with a flamed orange peel.
~
Night of the Iguana
1 oz Milagro Silver Tequila
.5 oz tamarind syrup
.5 oz Amontillado sherry
.75 oz pineapple juice
Pacifico
Fresh lime
Add Milagro, sherry, tamarind and pineapple to a pint glass filled with a few solid cubes of ice. Top with Pacifico. Squeeze a lime wedge on top, stir and serve.