Happy Halloween! It's finally upon us! For our final spooky-inspired drink, we knew that we couldn't go with something everyone knows. It was time to kick it up a level or three on the Halloween factor and bring that pure, "What the heck is that?!" that only a good, freaky shot can provide. For an occasion like this: The Brain Hemorrhage!
I guarantee, with a shot like this in your pocket, you'll be a hit with your friends. The best part? It doesn't just look good, it tastes good too! Think of this as your basic peaches and cream: we have peach schnapps and Baileys. Top that off with a little bit of grenadine and you have yourself a tasty little shot.
There is a small side note with The Brain Hemorrhage. See how cool, funky and congealed it looks? Well, that's because it is. You start with the peach schnapps and then add the Baileys to it. When you add the Baileys (pour carefully in a thin stream, it'll give you that cool brain look), it does congeal. Which also means it has a funky mouthfeel. This is a Halloween drink, it's supposed to be a little bit spooky.
Now you're set for Halloween, whether you want an old school, absinthe infused cocktail like the Corpse Reviver #2, or if you want an atmospheric cocktail like the Dark and Stormy, or just an amazing pumpkin drink like the Pumpkin Pie Martini, the perfect addition to those great drinks is a shot like The Brain Hemorrhage, which everyone should try at least once today.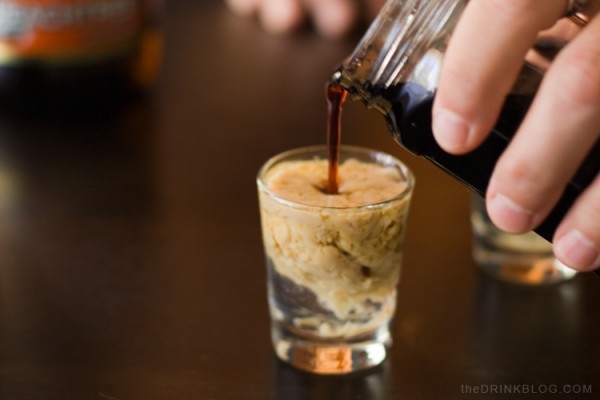 Those are what we think of as great Halloween cocktails. What are some of your favorite ones?
The Brain Hemorrhage
3/4 oz. peach schnapps
1/2 oz. Baileys
Splash grenadine
Instructions
Glass type: Shot
Pour your peach schnapps into the shot glass first. Drizzle on the Baileys next. Go for a thin stream, it'll give you a great brain look. Lastly, pour on the grenadine. Freak out everyone who sees it. Enjoy!
Recent Posts