TRY LOCALLY CRAFTED NYC SPIRITS AND BEERS AT LOCAL BARS

– 1 NYC Made Craft Beer or 1 Drink Made With Local Spirits at Each Participating Location –
September 28 through November 27, 2016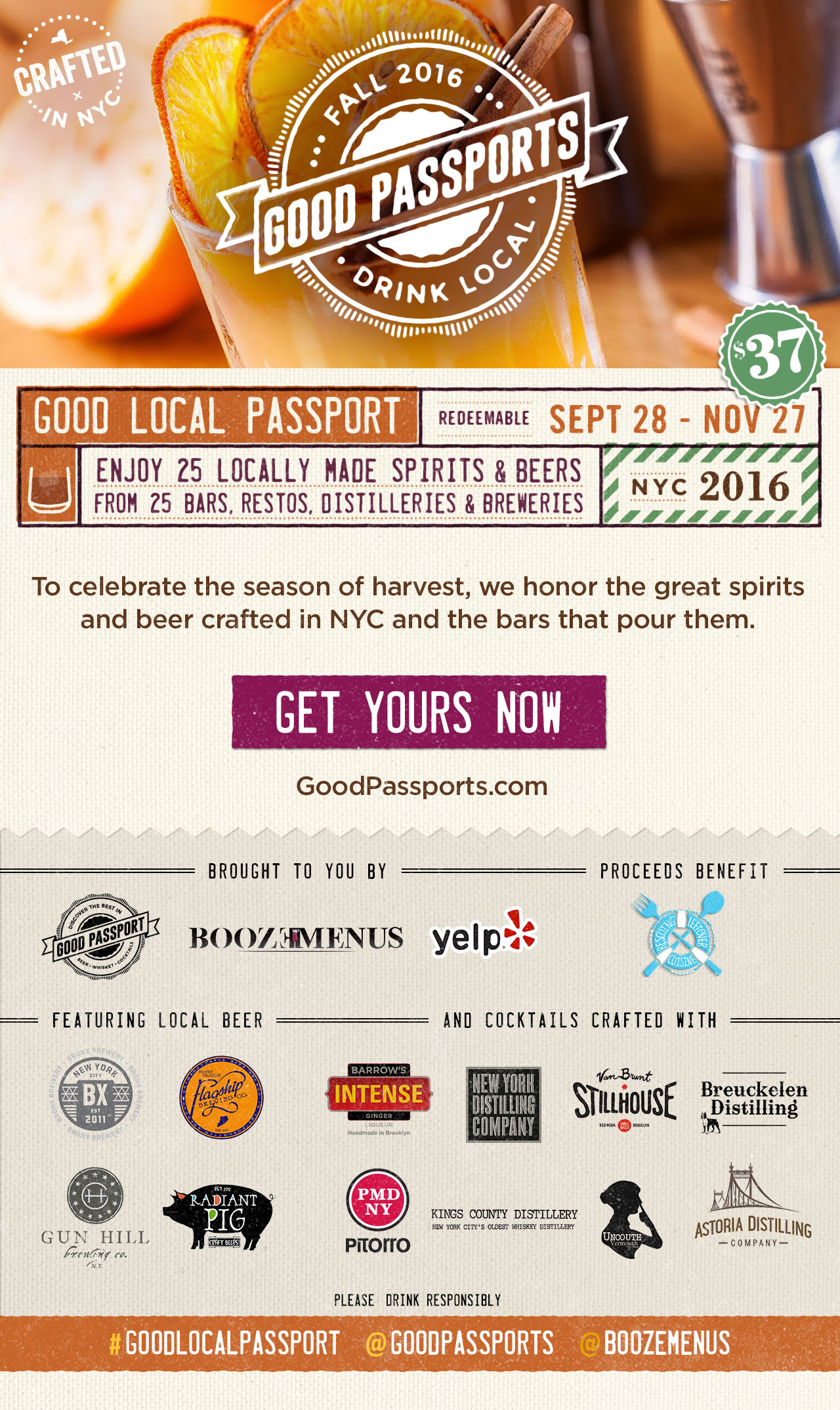 Price: $37
In celebration of the season of harvest, Good Passports, BoozeMenus and Yelp NYC have teamed up to present the Good Local Passport, which will raise funds for Rescuing Leftover Cuisine. They pick up leftover food from local bars & restaurants and deliver it to homeless shelters.
By purchasing the Good Local Passport, you'll get one cocktail, featuring one of the participating local distillers or a locally brewed craft beer at every location. Each participating location will offer you the choice of at least 1 of 2 locally made craft beer or cocktails featuring a spirit from one of the local distillers.
Cocktails are based on 1.5 oz pours of liquor and beers are based on a 12 oz pour. Some of the sponsored spirits are meant to be poured neat and in those cases, you will be offered it as such. You can use the passport on any day, at any time from September 29th through November 27, 2016.
When purchasing The Good Local Passport, choose the location where you would like to pick up your Passport. Passports are available for pick up from September 29 through October 29, 2016.
You can pick up the Good Local Passport starting on September 28th if you buy a VIP Passport. A VIP Passport comes with a ticket to a free spirits & beer tasting party.
Participating distillers include:
Participating breweries include:
How it Works:
Buy a ticket for your preferred Passport pick-up location.
Pick up your Passport at the location you chose any day from September 29 through October 29, 2016.

VIP Passports can be picked up at the tasting party on September 28

Bring your Passport to each of the participating locations any day from September 29 through November 27, 2016 and choose one craft beer or one cocktail from a participating brand at each location.
Please remember to tip your bartenders, as gratuity is not included.
Participating Locations:
Good Local Passport Tasting Event
September 28, 2016
New York Distilling Company
79 Richardson St Brooklyn, NY 11211
6:00 pm - 8:00 pm
Join us at our grand tasting kick-off event, where you can sample spirits — both neat and in cocktails — from participating local distilleries as well as locally made craft beers. VIP PASSPORT INCLUDES
1 Good Local Passport
Entrance to kick-off tasting party on Wednesday, September 28th
30-40 minute talk led by Allen Katz with someone representing each participating brand on the panel
Sample from the participating distilleries & breweries + meet the maker!
If you want to attend the tasting event, you must purchase one of the VIP tickets and pick up your Passport at New York Distilling Company during the party on September 28. VIP tickets come at no additional cost but there are only 100 VIP Passports available.
INTERACTIVE MAP OF PARTICIPATING LOCATIONS
Important Points
*Must be 21 years or older with valid ID
*1 Passport per person
*Misplaced Passports can not be replaced
*No refunds will be available after October 29, 2016
*Spirits are subject to availability. Participating locations reserve the right to alter spirit selection in the event of limited supply.
About Good Passports:
Good Passports work with bars, restaurants, breweries and alcohol retailers to drive in customers by creating limited-time promotions with multiple venues. Customers acquire a Passport that guides them around a city where they get to sample various drinks at a number of different locations. By purchasing a Passport, customers also receive a periodic email newsletter alerting them of cool and exclusive events from the participating locations.
About BoozeMenus:
BoozeMenus is THE source for cocktails and nightlife in NYC. Take the guesswork out of your social life search with the all-encompassing guide to venues, new openings, cocktail & spirit trends, parties and more.
About Rescuing Local Cuisine:
Rescuing Leftover Cuisine is a non-profit organization dedicated to helping the hungry by donating leftover food from restaurants, hotels, universities and other businesses to homeless shelters. Rescuing Leftover Cuisine is a national 501(c)3 non-profit food rescue organization, operating in 12 cities and headquartered in New York City, that provides solutions to prevent excess wholesome cuisine from being wasted. RLC provides services such as food waste consulting, excess food delivery, co-branding services, and tax credit assistance.
Recent Posts