The LOADed Cocktail Passport - 2017
Edit Post
Contributed by BoozeMenus.com on Jan 18, 2017
Zero readers love this post.
THE LOADed COCKTAIL PASSPORT

- Enjoy 25 cocktails at 25 different NYC bars & restaurants -
In honor of Women's History Month
March 10 through May 10, 2017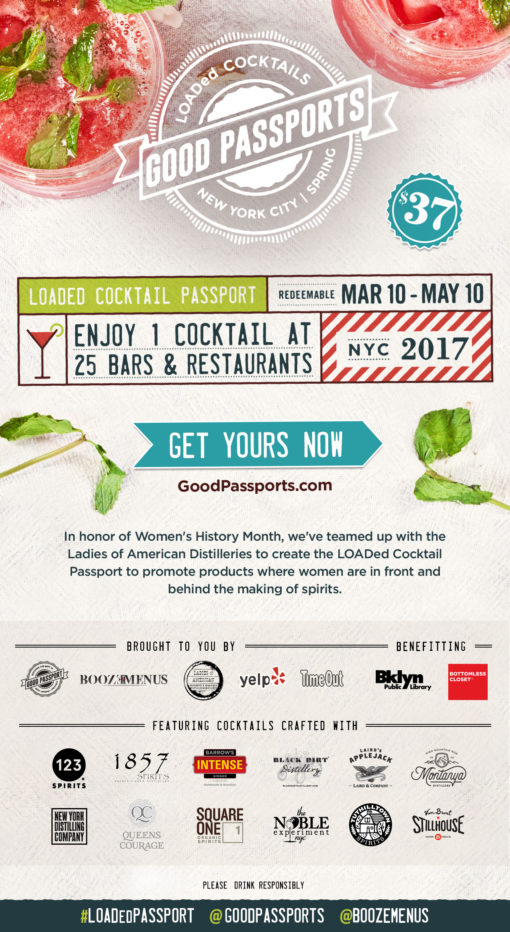 Good Passports, Ladies of American Distilleries (LOAD), Boozemenus.com, Time Out and Yelp NYC have teamed up to present the The LOADed Cocktail Passport, which will raise funds for Bottomless Closet and the Brooklyn Public Library.
In celebration of Women's History Month, we've created a passport that supports products where women are an integral part of spirit production, marketing, or branding.
By purchasing a LOADed Cocktail Passport, you'll get one cocktail, featuring one of the participating spirits brands, at every location. Each participating location will offer you the choice of at least 1 or 2 cocktails featuring a spirit from one of the brand sponsors. Some of the sponsored liquors are meant to be poured neat and in those cases, you will be offered it as such. Servings are based on 1.5 oz pours of selected spirit. You can use the passport on any day, at any time from March 10 through May 10, 2017.
Participating spirits include:
When purchasing a LOADed Cocktail Passport, choose the location where you would like to pick up your passport. Passports are available for pick-up from March 10 through May 10, 2017. How it Works:
Buy a ticket for your preferred passport pick-up location.
Pick up your passport at the location you chose any day from March 10 through May 10, 2017.
Bring your passport to each of the participating locations any day from March 10 through May 10, 2017 and choose one cocktail from a participating brand at each location.
Please remember to tip your bartenders, as gratuity is not included.
Participating Locations: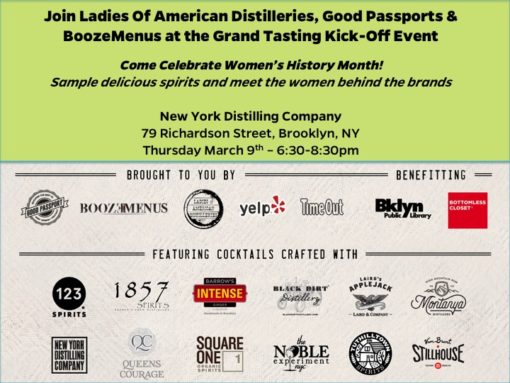 LOAD Cocktail Passport Tasting Party
March 9, 2017
New York Distilling Company
79 Richardson St, Brooklyn, NY 11211
6:30 pm – 8:30 pm
Join us at our grand tasting kick-off event, where you can sample spirits — both neat and in cocktails — crafted by the Ladies of American Distilleries and meet the women behind the brands.
VIP PASSPORT INCLUDES
1 LOADed Cocktail Passport
Entrance to kick-off tasting party on Thursday, March 9th
Sample spirits and cocktails from the participating distilleries
Snacks provided from Stinky Bklyn.
If you want to attend the tasting event, you must purchase one of the VIP tickets and pick up your Passport at New York Distilling Company during the party on March 9th.
VIP tickets come at no additional cost but there is a very limited amount available.
To obtain the VIP passport, you must choose the option to pick up at the LOADed event. Passports purchased to be picked at the LOADed event must be picked up that day at New York Distilling Company between 6:30 p.m.-8:30 p.m.
INTERACTIVE MAP OF PARTICIPATING LOCATIONS
Important Points
*Must be 21 years or older with valid ID
*1 Passport per person
*Misplaced Passports can not be replaced
*No refunds will be available after May 10, 2017
*Spirits are subject to availability. Participating locations reserve the right to alter spirit selection in the event of limited supply.
About Ladies of American Distilleries (LOAD):
With over 400 members representing over 100 distilleries in the United States, Ladies of American Distilleries promotes the advancement of women in the spirits industry, both in front of and behind the making of spirits. For more information, please join us on Facebook.
About Good Passports:
Good Passports work with bars, restaurants, breweries and alcohol retailers to drive in customers by creating limited-time promotions with multiple venues. Customers acquire a Passport that guides them around a city where they get to sample various drinks at a number of different locations. By purchasing a Passport, customers also receive a periodic email newsletter alerting them of cool and exclusive events from the participating locations.
About BoozeMenus:
BoozeMenus is THE source for cocktails and nightlife in NYC. Take the guesswork out of your social life search with the all-encompassing guide to venues, new openings, cocktail & spirit trends, parties and more.
About Bottomless Closet:
Bottomless Closet envisions a time when all women overcome poverty and achieve self-sufficiency for themselves and their families. Our mission is to be the connection that inspires and guides disadvantaged New York City women to enter the workforce and achieve success. We do this by providing interview attire, skills-based educational programming, and resume review and interview preparation.
About Brooklyn Public Library:
Brooklyn Public Library (BPL) is an independent library system for the 2.5 million residents of Brooklyn. It is the fifth largest library system in the United States with 60 neighborhood libraries around the borough. BPL offers free programs and services.
Recent Posts