Rick The Rum Runners Favorite Halloween Drink - Brought to you by DrinkWire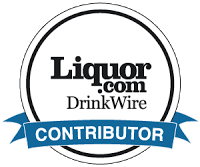 Rum drinks are often associated with either Hot-Hot Weather or Dead of Winter Weather, and believe me Rum Punches (both cold and Warm) as well as Hot Buttered Rum, Grog and Pina Colata's are all great, But Fall drinks, those "Tweeners" that can be warming or cooling are great to find take this Years Favorite Halloween Rum Drink -
The Dark and Stormy
.
While decidedly simple to make and Tropical in nature, I have been told and tried this drink
over the rocks
and
neat
(true, the Ginger Beer was refrigerated but no further ice was added)
I tend toward simple in my drinks. Sure I LOVE a complicated multi-ingredient melange but, only when someone else (and someone else better at it than I) makes it. Here is our take on The Dark & Stormy:
2 - oz Amber Rum
- (aged in barrels, getting that rich full flavor: We can recommend
Taildragger Amber
,
Cedar Ridge Dark
,
Richland Rum
,
Montanya Oro
,
Sgt. Classick Gold
,
New Holland Freshwater Amber
; really any good full flavored aged amber or dark rum...)
3 - oz Ginger Beer
- We recommend Goslings as its flavor and body team up well and it tends to be less sweet than many Ginger Beers and certainly Ginger ale.
Garnish with a lime slice.
Some Bar Tenders will add Lime juice, strictly optional -- but I DO like a drop or two
That's it for me -- Rick The Rum Runner's recommendation for The Best Halloween Drink!!