Neither of us grew up in families that celebrated St. Patrick's Day, with the exception of the occasional bowl of dyed green mashed potatoes at Steve's house. And no one drank Irish whiskey. We both had to come to it later in life. It was about five years ago that Paul brought home a bottle of Jameson. It sat on the shelf for a spell before he decided to mix a cocktail with it using pears as the theme. Thinking about pears mixed with whiskey made him reach for that bottle from which poured a slightly earthy but clean taste somewhat reminiscent of a smooth blended scotch, but without all the peatiness. Jameson makes for a good mixer. It really enhances the flavors of the other ingredients in a cocktail. So Paul thought about how much he liked the sweet, peaty Drambuie–Scotch blend that makes a Rusty Nail. Why not apply the same principal to a cocktail using Irish whiskey in lieu of the Scotch, and embellish the Drambuie with 2 blasts of pear: from a liqueur, and from freshly pureed Red Bartletts. What then became the "Oh Pear" would further become the third-place winner in the USA Pears/Imbibe Magazine Pear Cocktail Contest.
Oh Pear
(created by Paul Zablocki)
Ingredients
2 ounces Irish whiskey
1 ounce pear puree (try Red Bartlett)
1/2 ounce pear liqueur (try Belle de Brillet or American Fruits)
1/2 ounce Drambuie
Method
Shake in ice for 15 seconds. Strain into a chilled cocktail glass. Garnish with pear slice, if desired.
We're not going to lie; the Oh Pear is a strong drink, but the alcoholic strength is tempered by the sweetness of fresh pears and the incredible Bartlett richness of a good pear liqueur, such as Belle de Brillet, American Fruits, or Clear Creek. If you cannot make pear puree at home from ripe pears such as Bartlett, Comice, or Anjou, then find a pear puree that doesn't contain added sugars and other juices, if possible. Even though we consider it a fall cocktail, there's still enough of a chill in the air to warrant a round of Oh Pears with your friends. And if possible, you can make Cheddar Blue Fricos to pair with them. Fricos are wafer-thin lacy fried-cheese crisps you may have had using the traditional Parmesan. But we've embellished a bit, to go with the Oh Pear, and have blended some sharp Cheddar with a hint of blue cheese, and some herbs and spices.
So you don't want to whip out the juicer to make an Oh Pear? Okay. Here's an easy twist on a classic Manhattan that brings a big Erin-Go-Bragh grin to our faces. Irish eyes are smiling this month with a forgotten classic, the Paddy Cocktail. What better way to celebrate St. Patrick's Day than a cocktail named after an Irishman. When you first bring a Paddy Cocktail to your lips, you'll smell the caramel, with hints of vanilla and cherry. The first taste will prove that you weren't imagining the aroma, and it will bring you back to the holidays . . . as if you were drinking a whiskey-soaked cake. It's perfect before or after your meal, or both if you're St. Patrick's Day revels are happening at home or close to a cab (it's a strong drink, after all). The Paddy Cocktail is now one of our favorites, and it's a great addition to your Irish whiskey cocktail repertoire.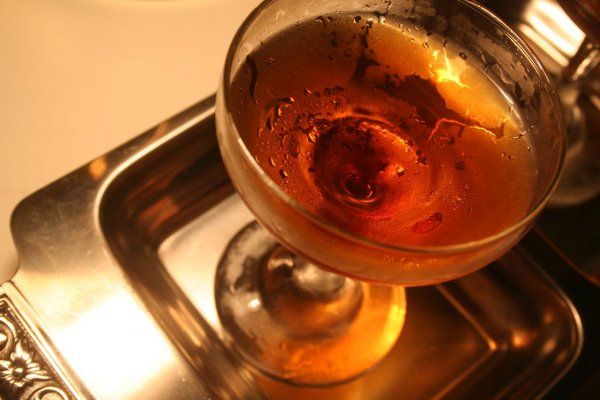 Paddy Cocktail
(adapted from Mr. Boston's Official Bartender's Guide)
Ingredients
1 1/2 ounces Irish whiskey (try Jameson)
1 1/2 ounces Carpano Antica (a sweet vermouth from Italy)
1 dash Angostura bitters
Method
Stir in ice for 30 seconds and strain into chilled coupe or cocktail glass. (If you cannot find Carpano Antica, just use your favorite sweet vermouth.) Bottoms up!
photos Cocktail Buzz