If you are a Bourbonr or have been to any of the numerous Bourbon blogs or forums you have heard stories remember when Pappy could be found in the wild, Lot B and Old Rip would sit on liquor store shelves for months. This is no longer the case. Stores now have lists hundreds of names long months before the Fall release. Bottles of Pappy 20 and 23 selling on the secondary market for 1000% the retail price. To say that Pappy has hit a tipping point is an understatement.
Originally, I wanted to write an article "Why is Pappy Van Winkle So Popular" however pinning down why something is popular is much tougher and often nothing more than a guess. Figuring out the "when" of the Pappy popularity will point to a few different events that boosted its success.
First, a brief history of Pappy Van Winkle. As with most distilleries/bottlers the Van Winkles have a story dating to pre-prohibition detailing the origins of their bourbon. It is not really relevant to this post so I will skip over it (here it is if you would like to read).
Here is an excerpt from The Pappy Van Winkle Wikipedia page (don't judge me for using Wikipedia):
"Sometime after the Stitzel-Weller distillery was sold in 1972, Julian Van Winkle, Jr. resurrected the pre-prohibition Old Rip Van Winkle brand and initially used old whiskey stocks from the distillery for its bottlings. Julian Jr. died in 1981 and Julian Van Winkle, III (Pappy's grandson) took over the Old Rip Van Winkle Distillery company.
After the initial sale in 1972, the Stitzel-Weller distillery was eventually closed completely in 1991.
Since 2002, the Van Winkle brands have been distilled and bottled by the Sazerac Company at the Buffalo Trace Distillery as a joint venture with the Old Rip Van Winkle Distillery company."
Now that we have that out of the way lets take a look at the Google Trends below.
As you can see Pappy first hits the search radar in December of 2006 and began to slowly increase, with search spikes every December, for the next five years. Bourbon in general has seen its own resurgence over the past few year and the Pappy growth trend appears to appears to be correlated with the Bourbon growth.
All of the sudden in December 2012 Pappy searches explode with almost double the amount of searches from December 2011. Now, Pappy is in every bourbon, spirit, wine, food, sports, journal, blog, forum, newspaper and magazine known to man. What is causing this significant growth? And, is it sustainable? I will let you draw your own conclusions for those answers.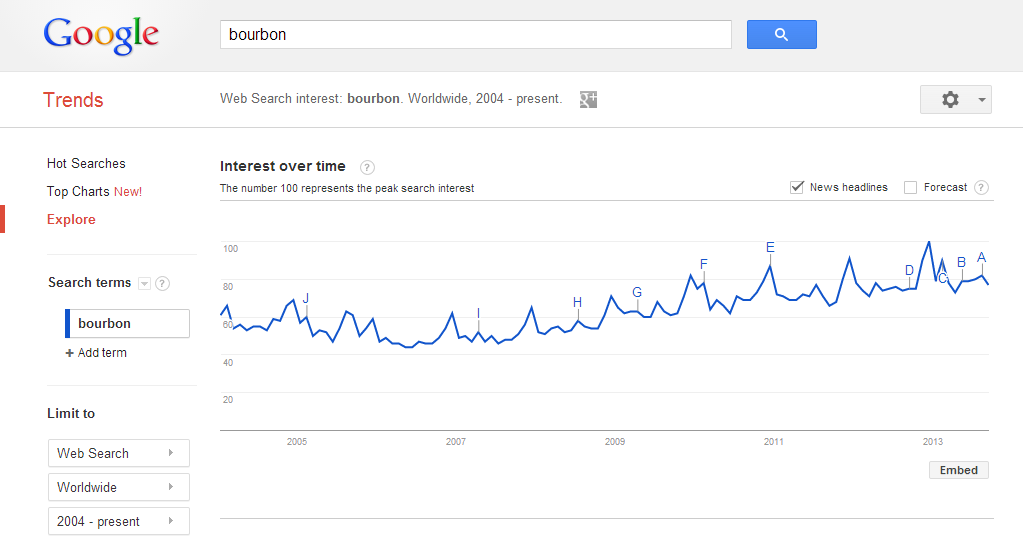 While it is easy to say that Pappy blew up over night this isn't the case. "Double Gold" at the San Francisco World Spirits Competition in multiple years begins to draw attention to your bourbon. Here is a list of awards their Bourbons have won:
Pappy 20yr
2000 Silver, 2000 Silver, San Francisco World Spirits Competition
2001 Silver, San Francisco World Spirits Competition
2002 Award of Excellence, American Tasting Institute
2003 Gold, San Francisco World Spirits Competition
2004 Silver, International Spirits Challenge
2004 Silver, San Francisco World Spirits Competition
2005 Double Gold, San Francisco World Spirits Competition
2005 Silver, International Spirits Challenge
2006 Gold, San Francisco World Spirits Competition
2007 Bronze Medal, International Wine & Spirits Competition
2007 Double Gold Medal, San Francisco World Spirits Competition
2008 Best Bourbon, Double Gold Medal, San Francisco World Spirits Competition
2008 Silver Medal, Best in Class, International Wine & Spirits Competition
2009 Silver Medal, San Francisco World Spirits Competition
2009 Silver Medal, International Wine & Spirits Competition
2010 Bronze Medal, Los Angeles International Wine & Spirits Competition
2010 Excellent / Strong Recommendation, Ultimate Spirits Challenge
2010 Gold Medal, San Francisco World Spirits Competition
2010 Silver Medal, International Wine & Spirits Competition
2006 Silver Medal & Best in Class, International Wine & Spirit Competition
2010 Best of Show, Los Angeles International Wine & Spirits Competition
2010 Best Whiskey, Los Angeles International Wine & Spirits Competition
2010 Double Gold Medal, Los Angeles International Wine & Spirits Competition
12yr Van Winkle Special Reserve
2000 Silver, San Francisco World Spirits Competition
2003 Silver, International Spirits Challenge
2003 Silver, International Wine & Spirits Competition
2004 DOUBLE GOLD, San Francisco World Spirits Competition
2004 Silver, International Spirits Challenge
2005 Gold, International Wine & Spirits Competition
2007 Gold Medal–Best in Class, International Wine & Spirits Competition
Pappy 23yr
2007 Double Gold Medal, San Francisco World Spirits Competition
2007 Gold Medal–Best in Class, International Wine & Spirits Competition
2008 Gold Medal, San Francisco World Spirits Competition
2008 Silver Medal, Best in Class, International Wine & Spirits Competition
Van Winkle Family Reserve Rye
1999 Award of Excellence, American Tasting Institute
1999 Gold, International Wine & Spirit Competition
2000 Gold, San Francisco World Spirits Competition
2003 Bronze, International Spirits Challenge
2003 Silver, San Francisco World Spirits Competition
2005 Bronze –Whisky Magazine
Want to build you Whisk(e)y Library? Bourbonr.com Offers the easiest way to track and review whiskies online